About Us
We are home to a huge selection of games. It's where you'll find the action running non-stop, and is a fun and safe place to play with people from around the world, with games available for real or play money.
It's home to some of the biggest weekly online poker tournaments. It's also where you can qualify for live poker events like the PokerStars Championship and many more. We are even in the record books for hosting the biggest ever online poker tournament and the highest number of people playing at once.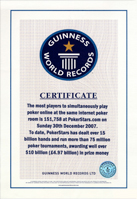 Getting started is easy. Go to the download page and follow the simple instructions to get up and running in minutes. The software is free and available for both Windows and Mac. If you've never played games like poker before, you can even observe any of the games that are running to see how the software works. Take a look below at why we are the only place to play.
Huge selection of games
We offer a huge range of poker games including Texas Hold'em and Omaha - all available in a wide range of limits that suit every type of player. With games running around the clock and a tournament starting every second, you'll never be far from the action.
The best support and fast, easy transactions
Our Support team is on hand 24-hours a day to help you with any issues. Simply send an email to Support and you'll get a fast response.
Making a deposit in to your Stars Account is also quick and easy, with a range of payment options available. You can also take advantage of fast withdrawals if you decide to withdraw money from your bank roll.
Fully licensed and regulated
We are a licensed and registered legal business and abide by all laws and regulations where we do business. We receive compensation for hosting poker games between players by collecting a rake from each real money pot. There is absolutely no charge to participate in play money poker games. In fact, you are encouraged to try our play money games - especially if you are new to our games.