Withdrawals via Direct Bank Transfer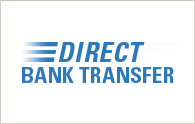 What is a Direct Bank Transfer?
A Direct Bank Transfer is a withdrawal method that allows you to receive your winnings by having them credited directly to your bank account.
How can I make withdrawals using Direct Bank Transfer?
All you need to do is initiate your withdrawal from the Cashier. Once you have entered the amount you would like to withdraw, simply choose the 'Direct Bank Transfer' option on the Withdraw screen. You will then be asked to enter information about your bank account. Once you have done this, you will be requested to confirm your bank account information before we submit your request for processing.
Please be aware that the registered bank account holder must be the same as the Stars Account holder.
Please visit our Withdrawal Policy for additional information.
What bank account information is required to process a Direct Bank Transfer?
Bank Account Number: This is the number of your bank account.
ISFC Code: This is the Indian Financial System Code - an 11-digit code that identifies your branch.
What are Direct Bank Transfer Limits?
Please visit the Cashier for current withdrawal limits.
What will it cost me to do a Direct Bank Transfer?
There are no fees for using Direct Bank Transfers. Players are responsible for any fees charged by their bank. For more information on your bank's policy concerning fees for receiving Direct Bank Transfers, please contact your bank directly.
If you have any further queries, please feel free to contact Support.