Kevin Martin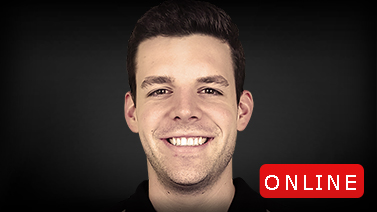 Kevin has swapped rock radio for Multi-Table Tournaments as the young Canadian plays his way up the poker ranks. It was a week off work that led to new career. Having enjoyed poker recreationally, his eyes were opened up to the game on a more serious level when he read his first poker book which he describes as "ground-breaking". Armed with an arsenal of information, he promised himself that he would quit working as a radio DJ when his bankroll hit $15,000. It didn't take long.
---
It's wasn't such a big change for Kevin from hosting an evening radio show discussing music, sports and whatever else people phoning in wanted to chat about, to becoming a prominent streamer in the online poker world. His skills honed in the former have proved a big asset for the latter.
By his early twenties, Kevin was playing online poker full-time. With tens of thousands of subscribers and followers on platforms like Twitch, Twitter and YouTube, Kevin is proof that the interest in this great game remains as strong as ever.
Now a proud member of Team PokerStars Online, Kevin wants to show other up-and-coming players how fun and exciting online poker is. He concentrates on low-stake MTTs, live streaming his play to a growing audience. He enjoys interacting with, and providing general tips and advice to, new and recreational players, keeping things fun and friendly.
Kevin's goal is to improve his game steadily and move up the stakes ladder while sharing the journey with his viewers. You can catch up with him on his Twitch stream, as well as through his regular vlogs, social media and on his YouTube channel.
He's delighted to be sharing a platform with seasoned poker pros who have been his role models as his skill level has developed. But he's equally excited to represent smaller stakes player who are striving to become better on the felt, and those who simply play for fun with their friends.
Kevin is a diehard reality TV fan who is up front about his "weird obsession" with analysing popular shows like Survivor and Big Brother. He even competed as a houseguest on season three of Big Brother. And when he's not indulging that passion, Kevin enjoys playing golf, shooting vlogs and drinking good beer.
We're sure he's a name you'll be hearing much more of as his online fame continues to grow.
Previously known as 'GarlicXToast', Kevin now plays online under the name 'KevinM987'.